The Wooden Floor Will Use Award to Enrich the Lives of Youth Through Dance and Education
Spectrum announced The Wooden Floor received $10,000 for the 2021-2022 Stand For The Arts Awards, a partnership with Ovation TV that recognizes local arts, cultural and educational organizations and programs. Since the initiative started in 2017, Ovation TV and Spectrum have given out 50 awards totaling $500,000 towards art education.
"By increasing access to the arts and arts education, The Wooden Floor is doing outstanding work to enrich the lives of residents of Orange County," said Adam Falk, Senior Vice President, State Government Affairs for Charter Communications, Inc., which operates the Spectrum brand of Internet, TV, Mobile and Voice services. "Our support of this initiative is yet another avenue for Spectrum to help make a positive impact in the communities it serves."
The Wooden Floor will use its 2021-2022 Stand For The Arts funding to empower low-income youth to strengthen self-esteem, self-discipline, and their sense of accomplishment through dance, academic, and family programs. Through access to higher education, their students will not only change their lives for the better, but will create a ripple effect and become change agents within their families, in their community, and throughout our nation.
Ovation joined Charter Communications on April 27 to recognize and award The Wooden Floor a $10,000 Stand For The Arts Award during their 10th annual Step Beyond fundraising event. The event featured special guests including Councilmember Jessie Lopez and Spectrum and Ovation executives.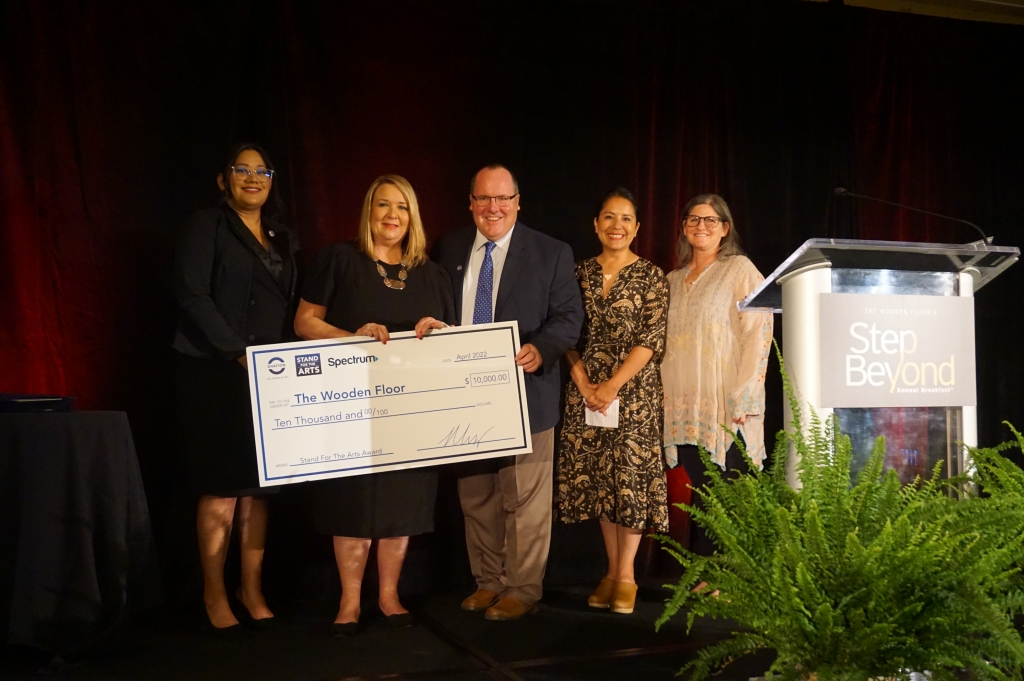 "The Wooden Floor is honored to be one of the recipients of a Stand For The Arts Award," said Dawn Reese, Chief Executive Officer, The Wooden Floor. "It demonstrates Ovation TV's and Charter Communication's commitment to the arts and education. This award will help transform more lives of young people in low-income communities through the power of dance and access to higher education."
"Thank you to The Wooden Floor, Ovation and Spectrum for making an impact in the lives of young people in low-income communities," said Councilmember Jessie Lopez. "By giving them tools they need through the catalyst of dance, it will allow them to succeed in school and life."
The Wooden Floor is one of 15 organizations receiving support in Spectrum markets across the country. Select arts organizations are awarded $10,000 Stand For The Arts contributions based on the following criteria: support of creative/artistic communities via economic and/or mental health recovery connected programs, commitment to accessibility and equity in the arts, and advocacy for underserved populations in their communities.
"We are thrilled to have the continued support of Spectrum as we recognize a landmark 50 arts organizations through our Stand For The Arts initiative," said Sol Doten, Senior Vice President, Content Distribution and Partner Marketing for Ovation TV. "Now more than ever, it is imperative for us to support local arts organizations like The Wooden Floor, as they have been fundamental in supporting their own communities."
More information about Stand For The Arts and the Stand For The Arts Awards is available at: www.standforthearts.com.
About Spectrum
Spectrum is a suite of advanced communications services offered by Charter Communications, Inc. (NASDAQ:CHTR), a leading broadband connectivity company and cable operator serving more than 32
million customers in 41 states. Over an advanced communications network, the company offers a full range of state-of-the-art residential and business services including Spectrum Internet®, TV, Mobile and Voice.
For small and medium-sized companies, Spectrum Business® delivers the same suite of broadband products and services coupled with special features and applications to enhance productivity, while for larger businesses and government entities, Spectrum Enterprise provides highly customized, fiber-based solutions. Spectrum Reach® delivers tailored advertising and production for the modern media landscape. The company also distributes award-winning news coverage, sports, and high-quality original programming to its customers through Spectrum Networks and Spectrum Originals. More information about Charter can be found at corporate.charter.com.
About OVATION TV America's Premier Arts Network
As an independent television, production, and digital media company, OVATION TV has an unparalleled commitment to the arts, culture, and captivating entertainment.  Showcasing a lineup of critically acclaimed premium dramas, specials, documentaries, and iconic films, OVATION TV salutes innovative storytelling with popular programming that includes Inside the Actors Studio, Murdoch Mysteries, Riviera, Frankie Drake Mysteries, Arts Engines, Miss Fisher's Murder Mysteries, The Fall, Midsomer Murders, The Art Of, Celebrity Conversations, and The Sound of New York. Ovation also powers JOURNY, the dedicated streaming service where art, culture, and travel intersect.  The company has provided more than $15M in contributions and in-kind support to arts institutions and arts education.  Its signature advocacy platform, STAND FOR THE ARTS, includes a coalition of over 130 arts organizations, cultural institutions, and arts leaders throughout the country raising awareness about art's positive impact, protecting access for everyone, and encouraging action on behalf of the arts.  OVATION TV is available on major providers via cable, satellite, and telco systems including Comcast Cable/Xfinity, DIRECTV/AT&T U-verse, SPECTRUM, Verizon FiOS, as well as on-demand.  You can follow OVATION TV on Facebook, Twitter, YouTube, Instagram, OvationTV.com, and through our App, OVATION NOW. 
---
For Spectrum For Ovation
Pam Collazo Roger Lawson
(858) 635-8235 PR Director, Ovation TV
pam.collazo@charter.com (310) 430-7565