Two Episodes Feature the History and Culture of Türkiye; Ovation to Donate to Earthquake Recovery Efforts
Ovation TV, America's premier arts network, is pleased to announce the March 2023 programming for its award-winning travel-entertainment digital channel, JOURNY. This Women's History Month, JOURNY celebrates the courageous women who venture out into the wild. Their goal: explore, discover themselves, and have a ton of fun. Through their globetrotting adventures, they demonstrate that nothing can hold them back, no matter the challenge, no matter the destination. JOURNY's Fearless Female Travelers stunt is streaming all month long, with the Season 10 premiere of Travels with Darley starting Wednesday, March 1st. The lineup also includes Andiamo! Uptown, Awesome Adventures, and Lee Chan's World Food Tour.
Season ten of Travels with Darley, hosted by travel expert Darley Newman, aims to elevate women creatives and women forging change. Over eight episodes, Darley travels to Türkiye, New Mexico, Quebec, Delaware, and Bordeaux, meeting extraordinary women along the way. These women are innovative, inspirational, entrepreneurial, and trailblazing. One such woman is Chief Port Officer Figen Ayan at Galataport Istanbul, who heads operations at the world's first underground cruise terminal, a sustainable building project working to meld old and new Istanbul, bringing locals and visitors together in art-rich public spaces.
"Viewers will experience vibrant Turkish history, culture, and cuisine over two episodes this season," stated Will Marks, SVP of Business Development and Digital, Ovation TV. "After the tragic earthquake in Türkiye and Syria on February 6th, Ovation will be donating to recovery efforts and encourages others to do the same. Please visit Charity Navigator for more information."
"My heart is breaking for the people of Türkiye and Syria," said Newman. "My time spent in Cappadocia, Istanbul, and Southeastern Türkiye was incredibly memorable, so I am thrilled to help raise funds for the relief effort."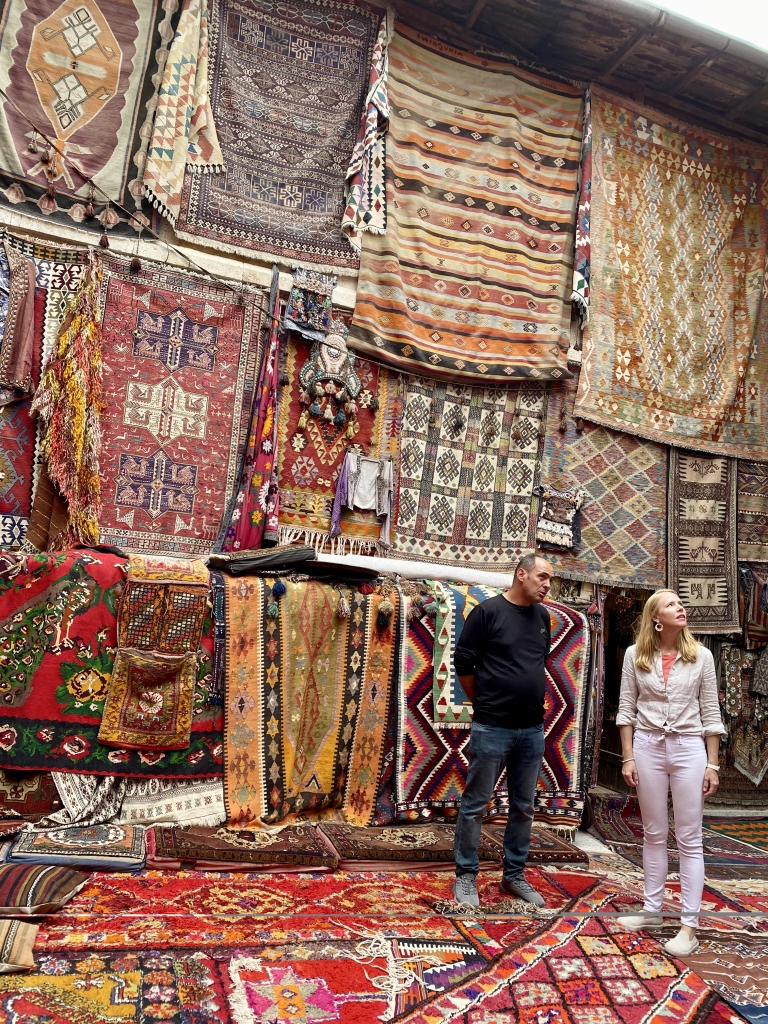 Additional highlights of the season include Patricia Marin, of Santa Fe's Marin Feather Art Gallery, who started painting in her 60s and now has her own successful studio and gallery, and Québec winemaker Anne-Marie Lemire, who turned a century-old sugar shack into a thriving winery at Leon Courville Vineyard. Her innovative venture has kept historic buildings intact and created year-round employment for her staff in the Eastern Townships.
"We're continuing to profile inspiring women whose impactful and diverse stories encourage us all to continue to break out of our comfort zones and work towards positive change," added Newman. "This season grants viewers a global view of these out-of-the-box, courageous thinkers."
Viewers will also enjoy the specially curated lineup of the following titles:
– Andiamo! Uptown: Follow Donna Perkins on her vibrant travel adventures. Donna's wanderlust originates from her years of frequent globetrotting as a dancer & choreographer for numerous legendary artists in the music industry. These opportunities allowed her to become a culturally well-rounded individual. She now shares her travel-savoir-faire with JOURNY as she visits amazing locations like Québec City, Seville, Phuket or Zurich.
– Awesome Adventures: This travel series takes young people on incredible trips around the world. The team of teenage correspondents visits locations in the United States and abroad to exhibit the beauty of nature and the people who inhabit each destination. Whether it's snowboarding down the Alps, visiting a Costa Rican rain forest, or taking a walking tour of Old San Juan in Puerto Rico, Awesome Adventures provides visual experiences of varied activities.
– Lee Chan's World Food Tour: Combining her passions of food and travel, Lee Chan eats her way around the globe. With her taste buds leading the way, Lee travels to every corner of the world cooking up local favorites, modern delicacies, and delicious desserts. From the markets of Asia to the wilds of Africa, Lee's energetic zest for life will see her feasting on a menu of culture and cuisine.
JOURNY is free to stream and is available on 300MM+ connected TVs via Amazon Fire TV, Apple TV, Android TV, Roku, XUMO, Vewd, Samsung TV Plus, VIZIO WatchFree+, Plex, DistroTV, and Verizon Stream; as well as on millions of iOS and Android mobile devices.
For more, please visit ovationtv.com and ovationtv.com/journy.
About JOURNY
JOURNY is the only travel-entertainment app at the intersection of travel, art, and culture! Watch award-winning television series focused on immersive experiences and unique storytelling for FREE! Powered by Ovation and designed for the conscientious traveler, our programming centers world travel, cultural tourism, and global citizenry. Utilizing a network of talented and passionate travel filmmakers, producers, and creators, JOURNY brings together the voices and stories that make us connected and human. JOURNY is available on 300MM+ connected TVs via Amazon Fire TV, Apple TV, Android TV, Roku, XUMO, Vewd, Samsung TV Plus, VIZIO WatchFree+, Plex, DistroTV, and Verizon Stream; as well as on millions of iOS and Android mobile devices.
About OVATION TV America's Premier Arts Network
As an independent television, production, and digital media company, OVATION TV has an unparalleled commitment to the arts, culture, and captivating entertainment.  Showcasing a lineup of critically acclaimed premium dramas, specials, documentaries, and iconic films, OVATION TV salutes innovative storytelling with popular programming that includes Inside the Actors Studio, Murdoch Mysteries, Riviera, Frankie Drake Mysteries, Arts Engines, Miss Fisher's Murder Mysteries, The Fall, Midsomer Murders, The Art Of, Celebrity Conversations, and The Sound of New York. Ovation also powers JOURNY, the dedicated streaming service where art, culture, and travel intersect.  The company has provided more than $15M in contributions and in-kind support to arts institutions and arts education.  Its signature advocacy platform, STAND FOR THE ARTS, includes a coalition of over 150 arts organizations, cultural institutions, and arts leaders throughout the country raising awareness about art's positive impact, protecting access for everyone, and encouraging action on behalf of the arts.  OVATION TV is available on major providers via cable, satellite, and telco systems including Comcast Cable/Xfinity, DIRECTV/AT&T U-verse, SPECTRUM, Verizon FiOS, as well as on demand.  You can follow OVATION TV on Facebook, Twitter, YouTube, Instagram, OvationTV.com, and through our App, OVATION NOW.